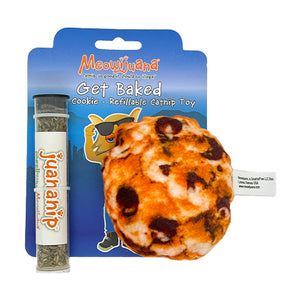 Get Baked Refillable Cookie - 12/case
Infused with high-grade organic Meowijuana© goodness, this refillable ultra soft cookie will satisfy your cat's cravings.  Fear not! Your cat won't feel guilty for having this sweet treat.  Our high-grade catnip promotes play and exercise, helping to keep your kitty fit and healthy. Our durable construction lets this tough cookie withstand cat munches, nibbles, and tosses. 

Catnip can be given every other day to cats, but after a few minutes, its effectiveness wears off and your cat will need to be away from the catnip for a while in order to experience a reaction again. Catnip may not be well received by cats under a year old.
---
We Also Recommend