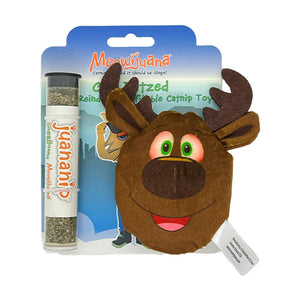 Get Blitzed Refillable Reindeer - 12/case
Meowijuana Get Blitzed Reindeer Refillable Toy - Getting blitzed is a pawsome way to break the winter blues for your cat. What cat wouldn't love to roll around with a refillable ultra soft reindeer catnip toy, and our dope 'nip. Whether your cat has been naughty or nice this year, playing reindeer games is certain to bring cheer all season long. Up, up, and away!

Catnip can be given every other day to cats, but after a few minutes, its effectiveness wears off and your cat will need to be away from the catnip for a while in order to experience a reaction again. Catnip may not be well received by cats under a year old.
---
We Also Recommend